Welcome to the Crooked Man Wiki!
Games
The Strange Man Series .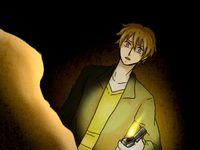 David Hoover (デヴィッド・フーヴァー Debiddo Hubaa) is the protagonist of the game. He moves into a new apartment during a rough point in his life, and immediately strange things occur which prompt him to search for the mysterious previous tenant.
He is a depressed man due to the many bad things that have happened in his life. One of them is that his mother has a tumor in her brain and can't even recognize him, and one time her upset over thinking he was a stranger invading her home was so bad that she attacked him, leading to him to almost kill her.
Hello and welcome to the Crooked Man Encyclopedia, the encyclopedia for the horror RPG game that anyone can edit. Information for the rest of the

Strange Men Series

is allowed too. Please feel free to contribute to our site and help us complete our goal to build the most informative site for everything related to this series. From all the editors here at the Crooked Man Encyclopedia, thank you for your contributions. Go here for the current main (and only) active staff member here on the wiki.


There are currently 3,306 edits to 52 articles since March 2013